Online store
Featured Item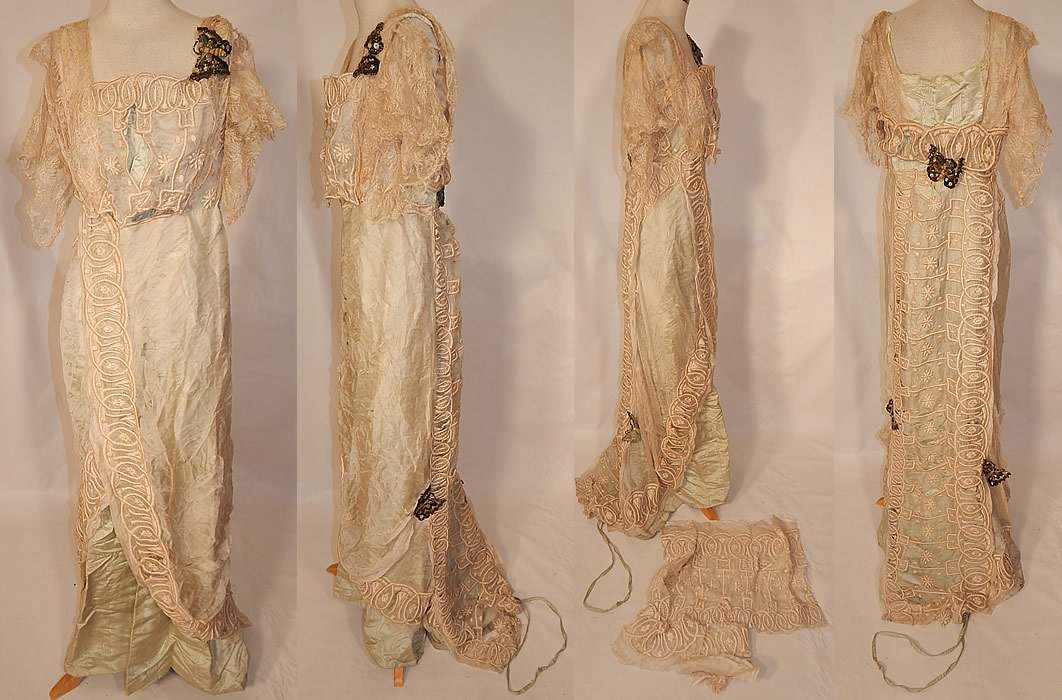 Edwardian Blue Silk Embroidered Lace Beaded Butterfly Ball Gown Dress
This antique Edwardian Titanic era blue silk embroidered lace beaded butterfly ball gown dress dates from 1912. It is made of a pale pastel baby blue color silk taffeta fabric, with an off white sheer silk chiffon embroidered fabric overlay and fine cobweb Chantilly lace sleeves. There are beaded butterfly appliqués accenting the dress. This beautiful ball gown was custom made, has a long floor length with back train skirt and attached carrying strap, a squared neckline, flared tiered lace sleeves, hook closures on the back and is unlined. The dress measures 58 inches long in the front, 67 inches long in the back, with a 26 inch waist and 36 inch bust. The dress is in fair as-is condition with several frays, splits shattering along the sheer silk fabric overlay, some fraying discoloration under the arms and the lace sleeves are loose needing reattaching. Included is some extra unused matching silk chiffon embroidered fabric which could perhaps be used for repairs and restoration. The gown belonged to socialite Miss Marianna Wright Taussig of South Dwight Place, Englewood, NJ. This is truly a wonderful piece of provenance and textile art which would be great for design!

More photos & further information.
We welcome you to our website. We are working hard to bring you more fine vintage fashions and accessories for sale online. Thank you for visiting our website. Please come back and visit us soon. We add new items each week. Feel free to contact us with questions about our items and any items you might want to sell.

Our newly listed items that are updated weekly.
Our weekly auction items listed on ebay.

More information on how to place an order with us.

Learn about us and where to find our merchandise.

Send us an email.

See some of our favorite links and exchange links with us.
When items are sold out they will be marked with a

When items are on hold they will be marked with an

Site Map
Your short cut to our shop
Vintage Fashion Antique Clothing
©1999-2017 1860-1960