Online store
Featured Item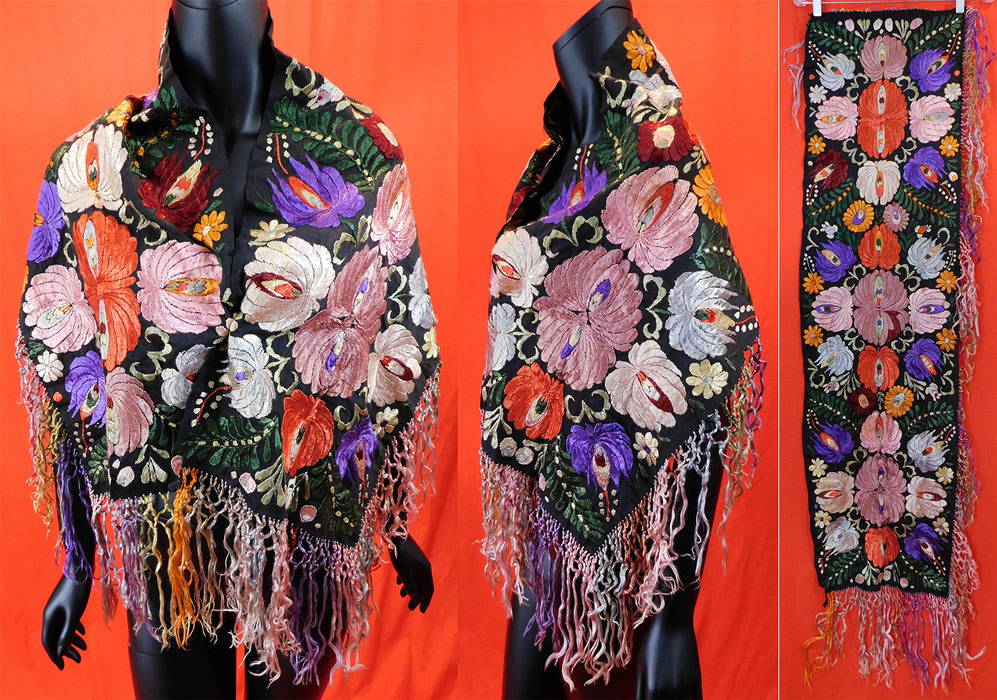 Vintage Matyo Hungarian Folk Embroidery Colorful Floral Shawl Stole Scarf
This vintage Hungarian Matyo folk embroidery colorful floral shawl stole scarf dates from the 1920s. It is hand stitched, made of multi colored silk threads done in a raised padded satin stitch Matyo embroidery work on a black cotton fabric underneath. There sensational shawl stole style scarf has an embroidered floral leaf design, hand knotted multi color silk fringe trim edging along the bottom, sides and is unlined. Hungary's tradition of peasant folk art embroidery dates back to the middle ages. Hungarian daughters learned to embroider at a very young age and a family's wealth was often measured or determined by the number of embroidered cloths they had. This lovely embroidered long stole measures 51 inches long, 14 inches wide and has an additional 8 inch long fringe trim. It is in good condition, with only a tiny faint stain one flower and a small fray on the two top corners (see close-ups). This is a truly a wonderful piece of wearable Hungarian textile folk art!
More photos & further information.
Welcome to our website. We are working hard to bring you more fine vintage fashions and accessories for sale online.
Please come back and visit us again soon.
Feel free to contact us with questions about our items and any items you might want to sell.

Our newly listed items.
Our weekly auction items listed on ebay.

More information on how to place an order with us.

Learn about us and where to find our merchandise.

Send us an email.
Follow 1860_1960 on Instagram
When items are sold out they will be marked with a

When items are on hold they will be marked with an

Site Map
Your short cut to our shop
Follow 1860_1960 on Instagram
Vintage Fashion Antique Clothing
©1999-2020 1860-1960