Online store
Featured Item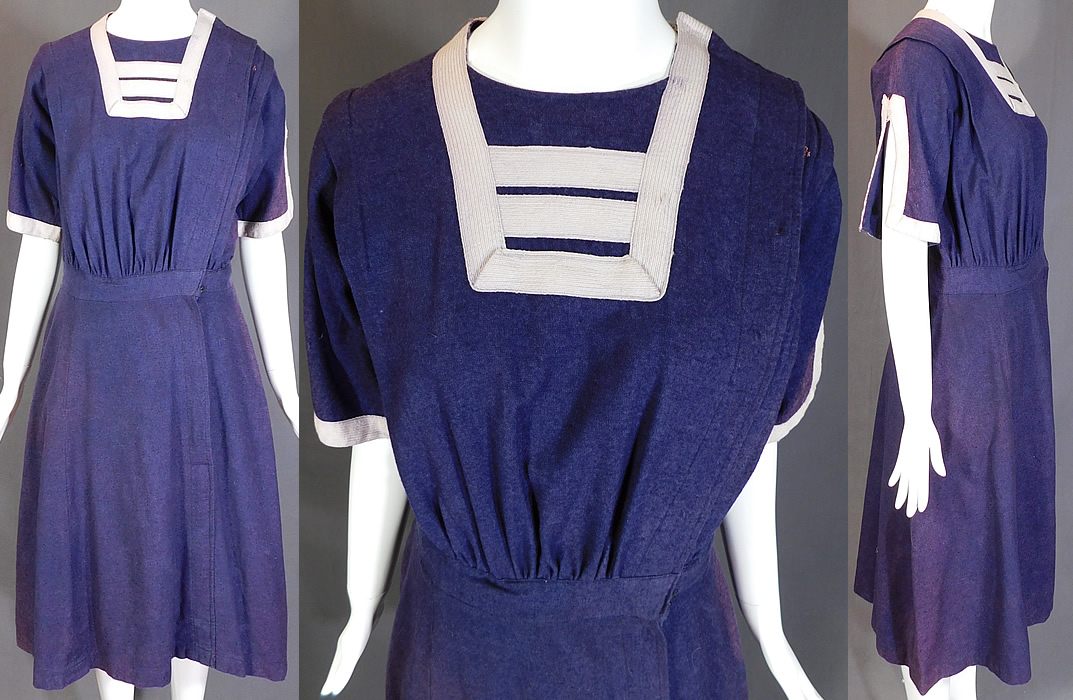 Edwardian Blue Flannel Wool Bathing Beauty Costume Swimsuit Dress & Bloomers
This vintage Edwardian era blue flannel wool bathing beauty costume swimsuit dress and bloomers dates from 1910. It is made of a blue soft flannel wool fabric with white corded striped trim edging on the top. This wonderful women's old fashioned bathing suit one piece romper swimsuit dress has a white trim yoke, short sleeves with a side slit opening, bloomer pantaloon pants with gathered leg cuffs attached underneath the skirt, front side, waist skirt hook closures and is unlined. The swimsuit dress measures 43 inches long, the inner pantaloons 25 inches long with a 14 inch inseam, 36 inch bust, 28 inch waist, 48 inch hips and a 14 inch back. It is in good as-is condition, with some fade discoloration in areas, along the side and a few tiny frayed holes on the sleeve, back top (see close-ups). This antique authentic "bathing beauty" costume is truly a wonderful piece of wearable swimwear art!
More photos & further information.
Welcome to our website. We are working hard to bring you more fine vintage fashions and accessories for sale online.
Please come back and visit us again soon.
Feel free to contact us with questions about our items and any items you might want to sell.

Our newly listed items.
Our weekly auction items listed on ebay.

More information on how to place an order with us.

Learn about us and where to find our merchandise.

Send us an email.
Follow 1860_1960 on Instagram
When items are sold out they will be marked with a

When items are on hold they will be marked with an

Site Map
Your short cut to our shop
Follow 1860_1960 on Instagram
Vintage Fashion Antique Clothing
©1999-2019 1860-1960