Online store
Featured Item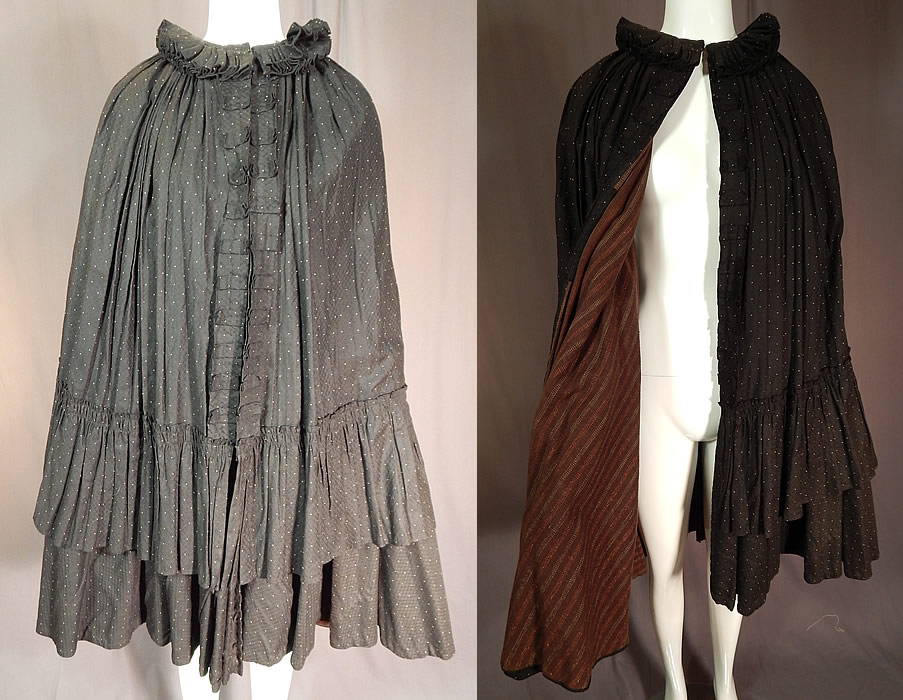 Victorian Black & White Polka Dot Cotton Calico Ruff Collar Winter Cloak Cape
This Victorian era antique black and white polka dot cotton calico ruff collar winter cloak cape dates from the 1900. It is made of a black and white polka dot cotton calico damask weave grid pattern fabric. This wonderful womens winter cloak cape is a long length, with a box pleat ruff collar, hook closure at the neck, box pleated trim edging down the front opening with inner fabric straps, layered ruffle bottom and is fully lined in a soft flannel cotton brown striped ticking fabric lining inside. The cape measures 39 inches long, 19 inches across the back shoulders and has a 15 inch neck. It is in excellent condition. This is truly a great piece of antique Victoriana European textile art!
More photos & further information.
Welcome to our website. We are working hard to bring you more fine vintage fashions and accessories for sale online.
Please come back and visit us again soon.
Feel free to contact us with questions about our items and any items you might want to sell.

Our newly listed items.
Our weekly auction items listed on ebay.

More information on how to place an order with us.

Learn about us and where to find our merchandise.

Send us an email.
Follow 1860_1960 on Instagram
When items are sold out they will be marked with a

When items are on hold they will be marked with an

Site Map
Your short cut to our shop
Follow 1860_1960 on Instagram
Vintage Fashion Antique Clothing
©1999-2020 1860-1960