Online store
Featured Item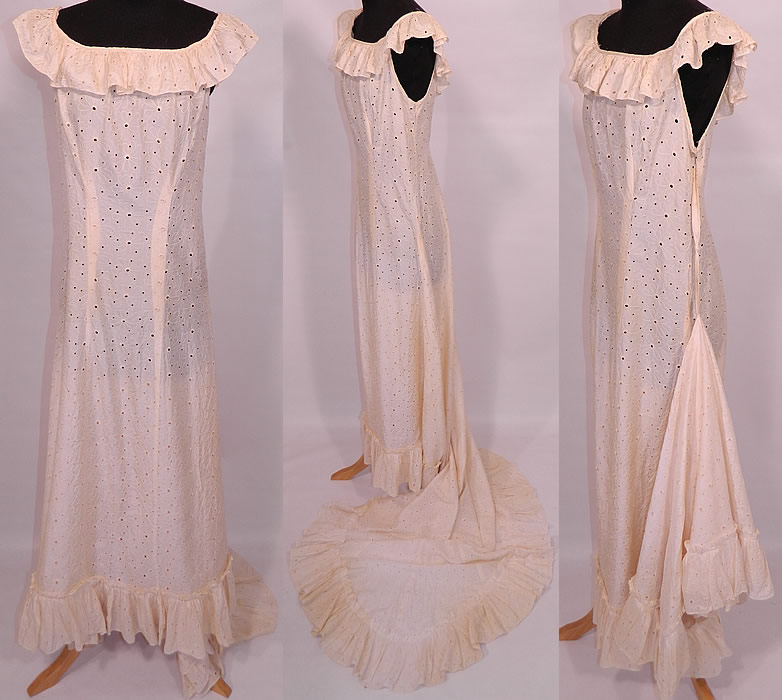 Vintage Eyelet Cream Silk Hawaiian Muumuu Wedding Gown Dress Train Skirt
This vintage eyelet cream silk Hawaiian muumuu wedding gown dress train skirt dates from the 1950s. It is made of an off white ivory cream color fabric, with a eyelet cut work floral daisy pattern embroidered stitched design. This traditional Hawaiian muumuu style beach bridal wedding gown dress is loose fitting, a long floor length, with a off the shoulder ruffle flounce collar, rounded scoop neckline, ruffle trim hemline with long back train skirt and loop for holding it up, a back zipper closure and is sheer, unlined. The dress measures 52 inches long in the front, 106 inches long in the back, with 38 inch hips, a 28 inch waist and 38 inch bust. It is in excellent condition. This is truly a wonderful piece of wearable wedding art!

More photos & further information.
We welcome you to our website. We are working hard to bring you more fine vintage fashions and accessories for sale online. Thank you for visiting our website. Please come back and visit us soon. We add new items each week. Feel free to contact us with questions about our items and any items you might want to sell.

Our newly listed items that are updated weekly.
Our weekly auction items listed on ebay.

More information on how to place an order with us.

Learn about us and where to find our merchandise.

Send us an email.

See some of our favorite links and exchange links with us.
When items are sold out they will be marked with a

When items are on hold they will be marked with an

Site Map
Your short cut to our shop
Vintage Fashion Antique Clothing
©1999-2017 1860-1960